Integrated Service Digital Network (ISDN) Stack
This page provides a roadmap to the STREAMS ISDN Stack code. This code presented here is a (possibly outdated) snap-shot of our OpenSS7 working directories. This is provided for browsing only to get a feel for the OpenSS7 stack code. Please read our licensing terms before using any of the code viewed here.
STREAMS ISDN Stack Code
The main directory for the STREAMS version of OpenSS7 can be viewed here. Or, you can select one of the specific modules from the diagram below, or from the section headings of the list below: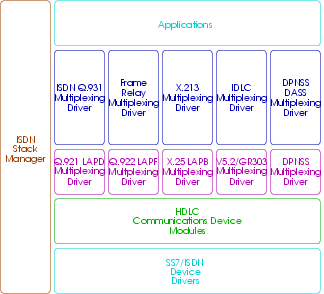 ISDN Q.921 (LAPD) is an integral part of the OpenSS7 stack. This multiplexing driver permits LAPD users to open LAPD data link provider streams and bind them to local DLSAPs. It fully supports connectionless and connection oriented delivery.
THe ISDN Q.921 (LAPD) multiplexing driver has High-Level Data Link Control (HDLC) streams linked underneath it by the ISDN configuration daemon, either statically or dynamically. LAPD users can also onpen and link HDLC streams for their own use. Linked streams can he any stream providing services of the Communications Device Interface (CDI) in the same manner as the HDLC stream.
The ISDN Q.921 (LAPD) multiplexing driver handles full LAPD procedures including manual and automatic assignment of terminal endpoint identifiers (TEI) and automatic (TEI) audit procedures.
The ISDN Q.921 (LAPD) multiplexing driver is used primarily in direct support of ISDN Q.931. You can review the LAPD code here.